All'inizio avevo letto solo il titolo e dato uno sguardo all'immagine postata su TalkAndroid e, subito mi ero domandato perchè altri smanettoni studiavano per rilasciare toolz del genere, quando già era presente una applicazione in tal senso efficace e utilizzabile senza l'ausilio di alcun pc.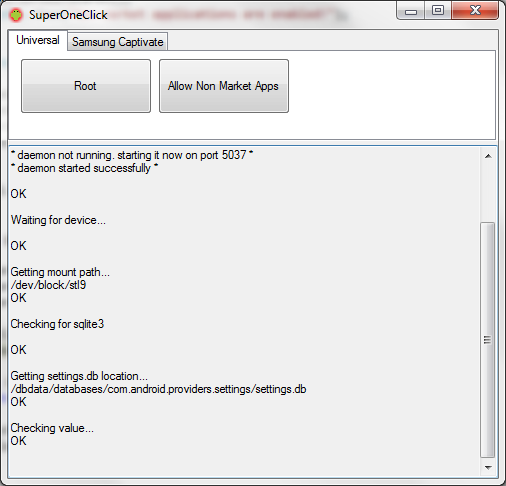 Leggendo l'articolo continuavo a chiedermelo, mentre, letto quanto riportato dalla fonte ufficiale capivo che:
"...While Universal Androot had the advantage of being an Android app (so you didn't need your PC to root the phone), Google has already released a patch that fixes the exploit in the Nexus One, and we can only assume the next Android update will fix it for other phones. Furthermore, some phones were unsupported, some phones needed certain builds of Android, and others needed you to tweak certain settings in the app for it to work...."
Birbacciona Google, con un piccolo aggiornamento ha bloccato, sui Nexus One, l'egregio lavoro svolto da "Androot", altra famosa applicazione dedicata allo sblocco di Android.
Considerando poi che Androot supporta lo sblocco solo per alcune versioni di OS e determinati dispositivi, ecco trovata la risposta al mio pensiero....
Ci vuole SuperOneClick che, a detta dello sviluppatore può dare il pieno accesso alla root a tutti i dispositivi motorizzati Android, ad eccezione di soli 7 device di seguito elencati:
Sprint EVO 4G (HTC Supersonic)
Droid Incredible (HTC Incredible)
HTC Desire GSM
HTC Desire CDMA (HTC BravoC)
HTC Aria
Droid Eris (HTC DesireC)
HTC Wildfire (HTC Buzz)
Di seguito un video sull'utilizzo del toolz...
Naturalmente l'app è gratuita.
Il download su Xda-developers a questo
LINK
.
Ciauz